Expertise offer from an edge computing solution provider with major cooling and environmental monitoring experience

Expertise Short Title
Expertise offer from an edge computing solution provider with major cooling and environmental monitoring experience
Expertise offered
Lande is developing smart and energy efficient edge computing systems which are better integrated to the buildings. Cooling efficiency is our priority for edge computing systems therefore we are currently working on innovative design concepts for advanced cooling for data centres and other ICT environments by using Computational Fluid Dynamics (CFD) simulations.
Lande is also experience in environmental monitoring and efficiency assessment of data centres. We can offer plug & play and standalone sensor systems with remote control option. Moreover, we can offer expertise for remote control systems.
Moreover, Lande is the coordinator of Artificial-Intelligence-Augmented Cooling System for Small Data Centres "ECO-Qube" Project (https://cordis.europa.eu/project/id/956059) which is a holistic management system which aims to enhance energy efficiency and cooling performance by orchestrating both hardware and software components in edge computing applications.
ECO-Qube increases energy efficiency of data centres, maximizes the energy supplied from renewable energy sources and minimizes the energy supplied from sources with big carbon footprint.
Expertise key words
F7 Other
G3 Smart meters
G4 Zero carbon building
G6 Electronics & appliances
G7 Smart sensors
K1 IoT
Contact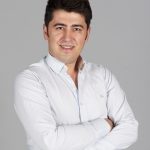 Name:
Çağatay Yılmaz
Company:
Lande Endüstriyel Metal Ürünler Sanayi ve Ticaret A.Ş.
Type of Organisation:
Industry
Country:
Turkey
Web:
https://www.lande.com.tr/EN/index.html
Telephone:
+905438253666
Brief description of my Organisation
Lande is an ICT ecosystem solution provider specialized in rack cabinets and enclosures, PDUs, environmental monitoring systems, remote control systems, precision cooling systems and a wide range of further products for ICT sector.
LANDE has fully functioning R&D team qualified for project management. Our team consists of experts with international project management experience and academic consultants from various universities. Our R&D division can provide the flexibility for designing, developing and prototyping. This is our greatest asset which gives us opportunity to create exclusive projects better than the other manufacturers focused on the end users.
LANDE also owns a spin-off which is a manufacturer of fiber optic connectivity products used in data communications and telecommunication networks.
LANDE is an endorser for EU Code of Conduct Data Centres, which has been established in response to increasing energy consumption in data centres and the need to reduce the related environmental, economic and energy supply security impacts.
Please complete the form to contact this Expertise Offer