SHINE2Europe supports tasks concerning communication, dissemination and exploitation, economic and societal impact, ethics & privacy, and data governance & sharing, as well as policy recommendations, co-creation, citizen science and design of pilot trials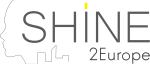 Expertise Short Title
SHINE2Europe supports tasks concerning communication, dissemination and exploitation, economic and societal impact, ethics & privacy, and data governance & sharing, as well as policy recommendations, co-creation, citizen science and design of pilot trials
Expertise offered
• Training, literacy and citizen empowerment
• Policy recommendations
• Entrepreneurship and sustainable innovation
• Dissemination and outreach
• Citizen engagement, citizen science, RRI
• Ethical excellence
• Societal impact analysis
• Health and digital solutions
• Data sharing governance
Detailing some of these areas, SHINE delivers tasks to:
• strengthening organisations roles and initiatives that enhance inclusion, active and participatory citizenship, human rights, health and care for the frailest, quality education and training.
• promoting entrepreneurship, sustainable innovation and market outreach, through targeted impacts on different ecosystem layers.
• directly engaging with stakeholders, end-users and citizens in co-creating, experimenting and validating innovative ideas and products, favouring citizen involvement in public decision-making.
• creating training materials and tools that promote lifelong learning and self-development, peer-learning and enhanced literacy and skills in different target groups.
• advancing knowledge on age-friendly, inclusive, green and tech-savvy societies, promoting research and publications on these themes.
• on a higher level, working in strategies, policies and participatory approaches that lead to a better democratic process, empowering citizens and engaging the whole cycle of stakeholders.
Contact
Name:
Carina Dantas
Company:
SHINE 2Europe
Type of Organisation:
SME
Country:
Portugal
Web:
https://shine2.eu/
Telephone:
Brief description of my Organisation
SHINE 2Europe aims to promote inclusive communities to all citizens, by delivering services and support to the implementation of tech-Savvy, Healthy and INclusivE solutions (SHINE) around Europe, with potential enlargement to the world. SHINE is born with a clear vision of fostering societal growth and inclusiveness, by sharing good practices, promoting active networking between different stakeholders and countries and developing relevant projects on targeted areas.
SHINE's main goal is to promote inclusive societies for all. This includes gender, race, age, personal opinions and lifestyles, literacy, environment and sustainability, with shared responsibility between all citizens and within democratic values. This is not restricted to awareness raising, advocating for the most fragile citizens or calling up the public attention to all the needs for extra care and specific interventions.
All of that is important, but what we really foster is to help imagining a society that is already built taking into consideration the different needs of all citizens and creating holistic solutions that can help them to be happy and have a fulfilled life.
SHINE's main services concern the following areas:
- Innovation: promoting this creative, transformative process that leads to paradigmatic break, even partial, positively impacting organisational change, quality of life and human development.
- Training - supporting learning organizations and groups to enable them to create and transfer knowledge as well as modify their behaviours to reflect this new knowledge.
- Capacity building - enabling individuals and organizations to obtain, improve, and retain the skills, knowledge and other resources needed for evolving.
- Networking - no initiative or business grows without a solid network of stakeholders, partners and reliable organisations around it. SHINE's team has a large network, both in Portugaland in Portugal, in all the key areas we work in.
- Management - you know exactly what you want to do, you can find the funds and the best team to implement but you just don't have the time or expertise to guarantee scientific, financial or organisational management. SHINE can support this process. SHINE can help organisations or communities to evaluate their status, draft a plan and scope for the right opportunities.
- Projects and studies - being able to find the right balance between scientific accuracy and public engagement is many times not that easy. If you have a great idea, we can support you putting it in place.
Please complete the form to contact this Expertise Offer