Smart Mobility Solutions

Expertise Short Title
Smart Mobility Solutions
Expertise offered
Parabol has specialized in multimodal mobility analytics and management solutions by gathering mobility-related data from different sources and turning them into insights and recommendations since 2011. We provide answers for the 5WH questions of urban mobility (what, where, when, why, how) such as "why people move and how they move" by processing billions of daily big mobility data and developing mobility algorithms. https://www.paraboly.com/
The company's main expertise is in big data, data mining, artificial intelligence, AI-based mobility algorithms, cloud computing, mobility management, freight mobility, urban planning, software development, mobile application development, Intelligent Transportation Systems (ITS), traffic safety and public transport systems.
Our multidisciplinary team includes city and transport planners, GIS experts, transport engineers, big data and machine learning engineers, computer engineers, industrial engineers, statistician, designer and marketing specialist.
We have proven scalability in 11 countries and 50+ cities on 3 continents, and it is the market leader in Turkey with 70% of the market share. It has more than 10 years of experience in the market, revenue, and team growth that has been increasing annually.
We have conducted different R&D research and programs at the international and national levels since its foundation. We are always excited to work on new projects, do not hesitate to contact us via research@paraboly.com
Expertise key words
K1 IoT
K2 Artificial Intelligence
Contact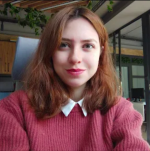 Name:
Elif Çora
Company:
Parabol
Type of Organisation:
SME
Country:
Turkey
Web:
https://www.paraboly.com/
Telephone:
905532653424
Brief description of my Organisation
Since 2011, Parabol has taken action every day by operating in the smart mobility sector with mobility management and analytics solutions. For all transport modes, by creating insights and understanding related to mobility based on data, Parabol helps government authorities, municipalities, private companies, and road users all over the world. "Always produce for good" and "create value" in all conditions have been two main focuses to making better solutions since day one. Parabol cares about a human-centered approach in the digitization journey of mobility and creates flexible, high efficient, and easy-to-use solutions to make mobility management and analytics more innovative. Deep expertise in big data, data mining, cloud computing, AI, Geographic Information Systems (GIS) technologies, mobility algorithms has been making our solutions best in multimodal mobility analytics, road safety analytics and dynamic traffic management areas.

Please complete the form to contact this Expertise Offer