Constructing a prototype of recycling feeding system for culturing freshwater fish juveniles
Title of my Project Idea
Constructing a prototype of recycling feeding system for culturing freshwater fish juveniles
Objective of my Project Idea
Recently, we developed a three-component laboratory system for feeding juvenile fishes that are involved in intensive freshwater fish farming. The primary goal of this project was to replace the sea fish meal of the diet and found a cost-friendly protein substituent. In our lake, we studied a food chain that we reproduced in the lab and investigated parts of the system. Results look promising, and we like to build up the whole system, specify the working parameters, and make recommendations for farmers. Currently, it seems that at least in laboratory size, the wastes can be recycled, and the whole system could be work eco-friendly. We have to answer some particular questions regarding the optimalization of the system, applicability for predator fishes as they are favorite meat for customers, and the possibility to enter and magnify selectively components in the food chain to get a healthy and quality fish food.
Types of partners being sought
freshwater aquaculture research unit; food analytical laboratory;
Contact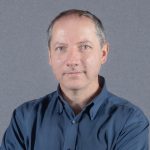 Name:
Zoltan Serfozo
Company:
Balaton Limnological Research Institute, ELRN
Type of Organisation:
Research
Country:
Hungary
Web:
https://www.blki.hu/en
Telephone:
+36202985874
Brief description of my Organisation
The Balaton Limnological Research Instiute belongs to the National Research Network in Hungary. The institute is the oldest biological institute in the country, which primary interest is to reveal biological processes in the ecosystem of Lake Balaton, the largest shallow lake in Central-Europe. The institute has also pivotal role to keep the ecological balance and save the lake from eutrophication by exploit basic research results into applications, give suggestions to decision makers and inform public about the conditions and efforts made to provide excellent water conditions for citizens and tourists.
Please complete the form to contact this Proposal/Idea