Decarbonization of industrial heat generation based on thermal energy storage
Title of my Project Idea
Decarbonization of industrial heat generation based on thermal energy storage
Objective of my Project Idea
Greendur is a spanish start-up whose main mission is decarbonization of industrial heat generation through latent heat thermal energy storage solutions. Our technological solution allows to use clean energy sources, storing energy as a form of heat and dispatching it when needed, up to temperatures of 350 ºC.
Our pioneering approach employs phase change materials that transition from solid to liquid, enabling our system to outperform traditional sensible heat storage solutions, achieving higher energy storage densities and constant heat supply.
It can be charged not only with electricity based on locally produced renewable energy like solar PV or the grid during off-peak periods but also by waste heat from the industrial plant, improving energy efficiency.
Our target clients are energy-intensive industrial plants, such as chemical, paper, food and beverage and textile, among others. We can help them to address the following customer pain points: fluctuating energy prices, energy efficiency, CO2 emissions and security of energy supply.
Currently, we are at TRL6-7 and we are interested in participating in all kinds of demonstrative projects to validate our technology with different energy sources for a variety of processes and industries. We are also interested in finding partners to develop together an intelligent system control for predicting optimum moment for charging and discharging to enable better energy management control, maximizing economic and environmental benefits with user-friendly operation.
Our pilot-plant prototype has 160 kWh storage capacity and 20 kW power, whereas our industrial prototype has 2 MWh storage capacity and up to 500 kW charging and discharging capacity in a 20-foot container. Plus, scalability is intrinsic to our design; additional thermal batteries can be installed in tandem to meet any escalating energy demands.
Types of partners being sought
Industrial partners (energy-intensive industries and manufacturers of industrial equipment), Renewable Energy Companies, Software and AI companies, Engineering and Consulting Firms, Financial and Investment Partners
Proposal key words
F6 Oil | gas | coal enhanced practices
I3 Thermal storage
K2 Artificial Intelligence
Contact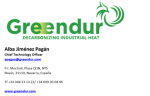 Name:
Alba
Company:
Greendur Technologies
Type of Organisation:
Industry
Country:
Afghanistan
Web:
https://greendur.com/
Telephone:
Brief description of my Organisation
Founded in Navarra, Spain in 2020, Greendur develops next-generation thermal energy storage systems based on phase change materials, occupying a strategic position within the burgeoning green technology sector, where only a handful of companies around the world are focused on latent heat.
Greendur's vision is to make a lasting impact on the global energy storage sector, reducing carbon emissions and shaping a more sustainable future.
Greendur's experienced team have decades of combined experience in diverse areas, including multinational commercial, engineering, and renewable energy.
Please complete the form to contact this Proposal/Idea