W'wave – Concentrated Wind Power
Title of my Project Idea
W'wave - Concentrated Wind Power
Objective of my Project Idea
W'wave® OPTIMISES WIND in WIND FARMS.
W'wave has developed and PATENTED a new technology that makes wind flow at higher speed and less turbulence through the rotors of the wind turbines of a wind farm so that its turbines can harvest more wind energy .
Then technology materializes in our PRODUCTS, W'wave® WindWaves: HARDWARE structures anchored to the ground that purposefully divert wind flow from the ground level, accelerating it through the turbine rotor level. These are SAFE (building-code-compliant), structurally non-complex (very modular), COST-EFFECTIVE, certifiable LOW-CARBON-intensive, RECYCLABLE and REUSABLE, and that can be HYBRIDATED with solar PV panels to make the wind farms with the highest production efficiency (i.e.: CAPACITY FACTOR) in the world.
We propose to perform pilot projects, in any of the eligible Eurogia geographies, with the following potential partners:
-WIND OPERATORS & DEVELOPERS,
-WIND FARM CONSTRUCTION companies,
-WIND TURBINE MANUFACTURERS,
-WIND TECHNOLOGY CERTIFIERS,
-WIND ENERGY RESEARCHERS,
-MANUFACTURERS of STEEL STRUCTURES,
-PV SOLAR STRUCTURES MANUFACTURERS & INSTALLERS.
Types of partners being sought
Wind Farm Developers, Wind Farm Operators, Wind Turbine Manufacturers, Wind technology Certifiers, Wind Energy Researchers, Manufacturers of Steel Structures, PV solar Structures Manufacturers & Installers
Contact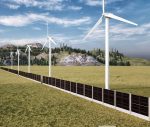 Name:
Manuel Alcocer
Company:
W'wave
Type of Organisation:
SME
Country:
Spain
Web:
https://www.wwavenet.com/
Telephone:
607263818
Brief description of my Organisation
W'wave is the wind pioneer in Concentrated Wind Power solutions, a new technology that will decisively support the wind industry and world in its quest to fight Climate Change and make renewable energy more competititve.

We are specialised in designing, sourcing and manufacturing, installing, and developing Concentrated Wind Power Systems (in short, our WindWave), a new technology to Optimize Wind in wind farms so that its turbines can harvest more energy at lower cost, empowering our customers and partners to construct more powerful wind farms siting turbines closer to each other.

The technology is constantly developing to offer our customers and collaborators better product features and a better collaboration experience. Thanks to our involvement with all the wind energy industry's value chain, it will be installed across the globe.
Please complete the form to contact this Proposal/Idea